Buckeye Kennels
---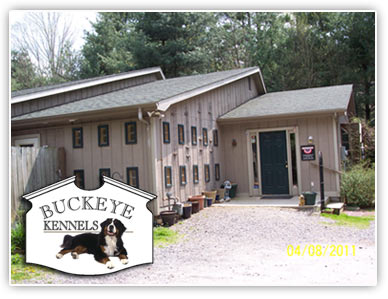 Buckeye Kennels
Welcome and thanks for visiting our website!
We are the area's premier dog grooming and boarding facility and have been taking loving care of our client's pets since 2000.
Learn more about us

Days & Hours

Directions
Boarding Guidelines:
Thank you for trusting us with your beloved pet. Of course we cannot replace the relationship that you have with your animals, but while you are gone we will provide your pet with a safe, caring and comfortable home-away-from home.
Check-In Hours:
For new clients, we ask that you please bring your pet in no later than 3:00 p.m. for their first stay. This will give them a chance to get to know us and have their exercise before "bedtime". Dogs that have stayed with us before can be checked in any time during regular business hours. We cannot accept pets before or after business hours.
Check-Out Hours:
Pets can be picked up anytime during regular business hours. Pets picked up before 12:00 p.m. will not be charged for that day.
Accommodations:
Our focus is on your pet's comfort and well being. Individual kennels offer indoor-outdoor access with heated floors. The indoor section is air-conditioned, and the outside area is covered.
Small dogs have the option of our small dog room. Each pet has its own condo complete with a window to look outside. Five times daily, everyone is let outside to exercise and play in social groups.
Excercise & Playtime:
Buckeye Kennels limits the number of pets that it takes so that our staff can give the boarders the type and amount of attention they need. All dogs are exercised in outside play yards four times daily.
Feeding:
We provide a premium diet to our dogs. We carry both dry and canned food. Selected treats are available for all of those who are allowed to have them.
We can also accommodate your pet's special foods. Please label anything that you bring in with your pet's name and feeding instructions. We are unable to cook food, but we can freeze or refrigerate and microwave prepared food.
Fleas:
We strive to keep Buckeye Kennels a flea-free environment. If we do find fleas on your pet when they come to board with us, they will receive a flea bath.
Bedding & Toys:
We provide bedding and toys, but we understand that many pets have their own favorites which they find comforting. Therefore, you are more than welcome to bring your pet's personal belongings. We will make sure that all personal belongings stay with your pet and are returned. We cannot, however, be responsible for any items that are chewed up. We also ask that items are machine washable or have a machine washable cover.
Special Needs Pets:
The small number of pets we take allows us to take special needs pets. However, there is an additional charge for insulin dependent diabetic pets. Pets with physical disabilities are also welcomed, but require special screening before hand. This may involve consulting with your vet to ensure that we understand their needs.
Medications:
Medications are given at no extra charge. Please clearly mark all medication with the pet's name, the name of the medication, the dosage, the reason for the medication, and the name and telephone number of the vet who prescribes them.
Immunizations:
For everyone's protection, all dogs must be current on vaccinations against DHLPP, Bordetella and Rabies. Vaccination against Coronavirus is recommended but not required. We will gladly call your vet and verify that all vaccines are current.
Any questions? Just ask! We strive to make your pet's stay with us as positive an experience as possible.
Contact Us